Food, energy, water, migration nexus and SDGs: securing a sustainable future in a changing climate
A2030, Anpia, Enactus Italia e Global shapers Kabul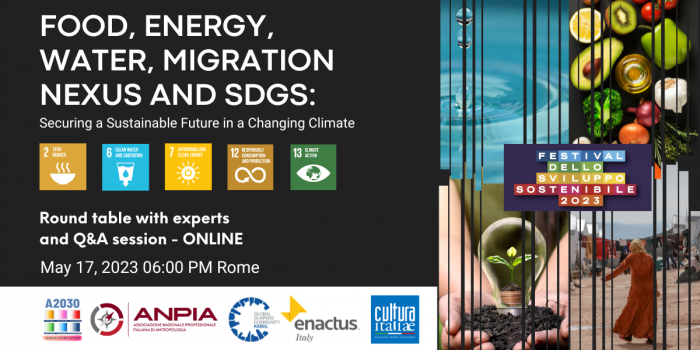 When
---
Wednesday, May 17, 2023 h. 18:00-19:30
Description
---
The food, energy and water nexus is a crucial aspect of sustainability. The interconnectedness of these three resources is essential for human survival, and their accessibility significantly impacts human quality of life. However, with increasing population growth and climate change, food, energy and water demand is rapidly escalating and securing a sustainable future for our Planet has become a global concern.
A2030 invites experts and researchers to an online round table to explore the current state of the food, energy and water nexus and 2030 SDGs, as well as to discuss the challenges, potential solutions, and strategies for securing a sustainable future in the face of climate change.
The round table could help raise awareness and understanding of the complex interrelationship between food, energy and water security and forced migrations and how it is affected by climate change. The participants of the event particularly, students, activists and civil society members will learn about the key issues, challenges and solutions related to sustainable development and the food-water-energy nexus.
The event will inspire participants to take action on the issues of sustainable development. Students could be motivated to learn more about the topic and pursue careers in related fields, while activists and civil society members will be encouraged to advocate for policies and initiatives that promote sustainable development.
Participation is free, by reservation.
Additional information on the event
---
Col patrocinio di Cultura Italiae. Attesi altri patrocini.
Streaming online
---